Lose Weight Fast Without Being Hungry
You're probably like most people and do not have the genetic makeup to be thin. You may be seeking information about weight loss and healthy living because you or someone in your family has diabetes.
What prompted this article was that a friend of mine was planning a vacation that might lead to her being in a swimsuit at some point in time. Naturally she wanted to look her best. When I spoke to her, she told me she had just lost 10 pounds in less than two weeks. Of course, I asked what she'd been doing. She started telling me that she was on this diet that was only 500 calories a day. What? I was shocked!!
You are probably being very judgmental right now, and thinking she was nuts and that I should have referred her to a help line. But I didn't, and a few days later she was down 14 pounds total, and looked healthier and happier than ever. Like most people would be, once I got over my shock, I was very curious about how she was able to lose weight that fast. She started telling me that she'd talked to her brother-in-law (because he was a doctor) about appetite suppressants and very-low-calorie-type diets.
So I tried a 500 calorie-per-day diet myself. This article contains the exact menu I used for 14 days. (I planned six days, then repeated.). I will admit I added an apple or orange on several occasions when I felt weak, which I would suggest to anyone. Never let any diet or weight-loss plan make you feel less than your best.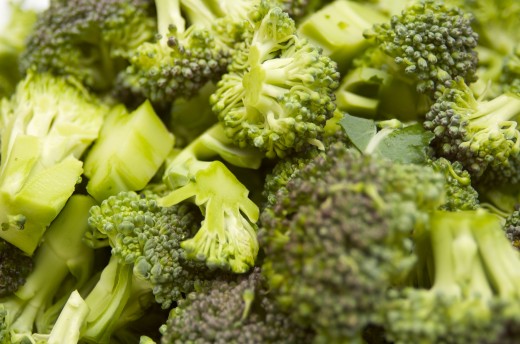 Who Can Lose Weight This Fast?
If your BMI is 20 or less, you will not lose much weight with this kind of low-calorie plan. If you are already at a BMI of about 20 and considering a diet that is 500 calories per day, please look for articles about eating disorders. You can starve and damage your system if you try such a drastic diet at a BMI of 20 or below; at this BMI, you should be getting your recommended daily calories. But most of us (95% of the US population) have a BMI of 21 or above and so don't have to worry. If you have a BMI over 25, you can lose one or more pounds a day with this 500-calorie-per-day menu.
How Long Can I Manage This Type of Diet?
This extreme low-calorie diet should be followed for no fewer than four days but no more than 40 days. After 40 days, your system will adjust and stop losing weight. But the diet can be repeated in a month or so if you have more to lose. Like a fast or cleanse diet, this diet is not to be followed for long periods.
Words of Caution
Please do your own research, but you will discover that if you eat low-calorie natural foods that are high in water content and fiber, they will kept you feeling full all day. They are also full of vitamins and great nutrition. If you are going to restrict your calories this much, make sure the calories you do eat are the best foods you can give your body.
Final Note:
If you are truly happy at the weight you are, you should enjoy it, and know that you are blessed to be in that contented minority. But if not, I hope this article has given you some information to reflect on, and an alternative to weekly meetings or online programs.
Printable menu with a shopping list
Your First 6 Days Pre-Planned
| When | Day 1 | Amount | Cal. | Total | Day 2 | Amount | Cal. | Total |
| --- | --- | --- | --- | --- | --- | --- | --- | --- |
| Breakfast | Orange (navel) – 69 calories | 1 | 69 | 69 | Orange (navel) – 69 calories | 1 | 69 | 69 |
| | Coffee | 1 | 0 | 69 | Coffee | 1 | 0 | 69 |
| Lunch | Chicken Breast (3.5 oz) – 87 calories | 1 | 87 | 156 | 93/7 Lean Ground Beef (3.5 oz) – 150 | 1 | 150 | 219 |
| | Broccoli (3.5 oz) – 34 calories | 2 | 68 | 224 | Cauliflower (3.5 oz) – 22 calories | 2 | 44 | 263 |
| | Melba Toast (5 gram) – 20 calories | 1 | 20 | 244 | – | – | 0 | 263 |
| Snack | Apple (medium) – 72 calories | 1 | 72 | 316 | Strawberries, (half bag) – 45 calories | 1 | 45 | 308 |
| Dinner | Tea | 1 | 0 | 316 | Tea | 1 | 0 | 308 |
| | Tilapia (3.5 oz) – 94 calories | 1 | 94 | 410 | Shrimp (3.5 oz) – 110 calories | 1 | 110 | 418 |
| | Melba Toast (5 gram) – 20 calories | 1 | 20 | 430 | Melba Toast (5 gram) – 20 calories | 1 | 20 | 438 |
| | Spinach, raw (3.5 oz) – 20 calories | 2 | 40 | 470 | Asparagus (3.5 oz) – 20 calories | 2 | 40 | 478 |
| | ● | | | | ● | | | |
| When | Day 3 | Amount | Cal. | Total | Day 4 | Amount | Cal. | Total |
| Breakfast | Apple (medium) – 72 calories | 1 | 72 | 72 | Strawberries, (half bag) – 45 calories | 1 | 45 | 45 |
| | Coffee | 1 | 0 | 72 | Coffee | 1 | 0 | 45 |
| Lunch | Chicken Breast (3.5 oz) – 87 calories | 1 | 87 | 159 | Cube Steak (3.5 oz) – 160 calories | 1 | 160 | 205 |
| | Broccoli (3.5 oz) – 34 calories | 2 | 68 | 227 | Lettuce, all varieties (3.5 oz) – 10 cal. | 3 | 30 | 235 |
| | Melba Toast (5 gram) – 20 calories | 1 | 20 | 247 | Melba Toast (5 gram) – 20 calories | 1 | 20 | 255 |
| Snack | Strawberries, (half bag) – 45 calories | 1 | 45 | 292 | Apple (medium) – 72 calories | 1 | 72 | 327 |
| Dinner | Tea | 1 | 0 | 292 | Tea | 1 | 0 | 327 |
| | Tilapia (3.5 oz) – 94 calories | 1 | 94 | 386 | Chicken Breast (3.5 oz) – 87 calories | 1 | 87 | 414 |
| | Melba Toast (5 gram) – 20 calories | 1 | 20 | 406 | Melba Toast (5 gram) – 20 calories | 1 | 20 | 434 |
| | Cauliflower (3.5 oz) – 22 calories | 2 | 44 | 450 | Celery (3.5 oz) – 15 cal | 2 | 30 | 464 |
| | ● | | | | ● | | | |
| When | Day 5 | Amount | Cal. | Total | Day 6 | Amount | Cal. | Total |
| Breakfast | Orange (navel) – 69 calories | 1 | 69 | 69 | Strawberries, (half bag) – 45 calories | 1 | 45 | 45 |
| | Coffee | 1 | 0 | 69 | Coffee | 1 | 0 | 45 |
| Lunch | Chicken Breast (3.5 oz) – 87 calories | 1 | 87 | 156 | Top Round Steak (3.5 oz) – 166 calories | 1 | 166 | 211 |
| | Cauliflower (3.5 oz) – 22 calories | 2 | 44 | 200 | Tomato (3.5 oz) – 20 calories | 2 | 40 | 251 |
| | Melba Toast (5 gram) – 20 calories | 1 | 20 | 220 | Melba Toast (5 gram) – 20 calories | 1 | 20 | 271 |
| Snack | Apple (medium) – 72 calories | 1 | 72 | 292 | Orange (navel) – 69 calories | 1 | 69 | 340 |
| Dinner | Tea | 1 | 0 | 292 | Tea | 1 | 0 | 340 |
| | Shrimp (3.5 oz) – 110 calories | 1 | 110 | 402 | Tilapia (3.5 oz) – 94 calories | 1 | 94 | 434 |
| | Melba Toast (5 gram) – 20 calories | 1 | 20 | 422 | Melba Toast (5 gram) – 20 calories | 1 | 20 | 454 |
| | Spinach, raw (3.5 oz) – 20 calories | 2 | 40 | 462 | Asparagus (3.5 oz) – 20 calories | 2 | 40 | 494 |
Foods That Are Recommended
| | |
| --- | --- |
| 93/7 Lean Ground Beef (3.5 oz) – 150 | Lettuce, all varieties (3.5 oz) – 10 cal. |
| Apple (medium) – 72 calories | Lime- 20 calories |
| Asparagus (3.5 oz) – 20 calories | Lobster (3.5 oz) – 98 calories |
| Beet Greens (1 cup raw)-8 calories | Melba Toast (5 gram) – 20 calories |
| Broccoli (3.5 oz) – 34 calories | Onions (medium yellow, raw)- 64 calories |
| Cabbage (1 cup shredded) – 17 calories | Orange (California) – 59 calories |
| Cabbage (3.5 oz) – 24 calories | Pink Grapefruit (1/2 large) – 53 calories |
| Cauliflower (3.5 oz) – 22 calories | Red Radishes (3.5 oz) – 12 calories |
| Celery (3.5 oz) – 15 cal | Seafood (avg. 98 calories) |
| Chicken Breast (3.5 oz) – 87 calories | Shrimp (3.5 oz) – 110 calories |
| Cod (3.5 oz) – 83 calories | Sirloin Tip Side Steaks (3.5 oz) – 130 |
| Crab Meat (3.5 oz) – 100 calories | Spinach, cooked (3.5 oz) – 31 calories |
| Cube Steak (3.5 oz) – 160 calories | Spinach, frozen (3.5 oz) – 23 calories |
| Cucumber (3.5 oz) – 12 calories | Spinach, raw (3.5 oz) – 20 calories |
| Fennel (1 cup,sliced)- 27 calories | Strawberries, 20 medium – 80 calories |
| Flounder (3.5 oz) – 90 calories | Tilapia (3.5 oz) – 94 calories |
| Grissini Breadstick (3 g) – 12 calories | Tomato (3.5 oz) – 20 calories |
| Haddock (3.5 oz) – 88 calories | Top Round Steak (3.5 oz) – 166 calories |
| Halibut (3.5 oz) – 110 calories | Veal (avg 114 calories) |
| Lemon- 24 calories | Veal, sirloin (3.5 oz) – 110 calories |